This week we're looking up to and taking advice from our local experts at Stratham, New Hampshire's Barefoot Medical Spa and From The Ground Up Podiatry to share some helpful tips as we embark on hiking adventures this season!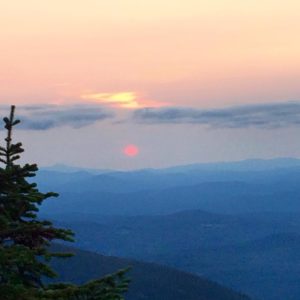 Here in New England, and specifically in New Hampshire, we live in one of the most beautiful and amazing places to hike. It's a great way to stay fit, have family time, and can be enjoyed by all ages and fitness levels! It can be done at least three seasons of the year (four if you're hardcore!) and it's a wonderful way to enjoy the beauty of the great outdoors. Keep your hike on course for maximum enjoyment and reduce risk for harm to your feet by following these helpful tips…

CHOOSE THE SHOES!! The most important equipment for successful hiking is appropriate footwear. Hiking on uneven terrain and varying elevations requires shoes designed specifically for hitting the trail—your sneakers won't be sufficient. Hiking boots should be made of sturdy material that can protect your feet from roots and rocks. They should be water resistant and have a good tread to prevent slipping and sliding. Weak ankles will appreciate the extra support of high-top styles. Get your feet measured and make sure your hiking boots fit properly.
BE SOCK SAVVY!! Sock choice is also important. You don't want feet to get cold, but you also don't want them to overheat and become sweaty—that's when blisters form. Look for socks that wick moisture away from the skin. Some hikers prefer to pair these with a second pair of thicker socks for added warmth and cushioning.
TAKE THE RIGHT TRAIL!! There are hiking trails to suit every ability level. Do your homework and find a trail that suits the fitness level of the hikers. Consider the total mileage (keeping in mind that trail miles are more strenuous than city miles), the elevation and steepness of any climbs. Choosing a trail that you're not physically in shape for can lead to serious foot pain and injury.
PACK FOR PREVENTION!! A few small items in your backpack can save the day and your hike. Pack moleskin to cover skin that is becoming irritated from rubbing inside your boot to prevent blisters from forming. Have some bandages and antibacterial ointment with you in case of minor scrapes and an ace bandage or tape for ankle twisting injury. Bring a cell phone so you can call for help if necessary.
PAY ATTENTION TO YOUR FEET!! Don't be reluctant to cut a hike short if your feet or ankles start to hurt. If the pain doesn't subside once you return or you notice swelling, bruising or other symptoms be sure to contact your podiatrist promptly for an evaluation.
From The Ground Up Podiatry and Barefoot Medical Spa are here to keep your feet healthy and in good shape—all year long! If you have any pain that occurs when hiking or prevents you from participating in physical activities, give them a call!
Thank you for sharing these tips with us!!
The post Hiking Tips To Protect Your Feet! appeared first on Seacoast Lately.