Newburyport, Massachusetts… What a cityyyy! With historic charm, modern amenities, a plethora of local businesses and stunning scenery around every corner, this North Shore Massachusetts city has so much to offer locals and visitors alike! We are so excited to share a variety of locally-owned restaurants, boutiques, coffee shops, and fun activities we love in this lovely area…
RN Esthetics
RN Esthetics is a multi award-winning Medical Esthetics Practice located in the Tannery in Newburyport along with two nearby locations. RN Esthetics' team includes NP's, RN's, and Estheticians who all focus on improving the overall skin health of every client. The office offers on array of services in a comfortable, clean, and welcoming environment where you'll always be in good hands!
Fruh Realty
Based in the heart of downtown Newburyport, Fruh Realty leverages cutting-edge, effective marketing tools and techniques to reach the right people at the right time so they can sell homes for top dollar in fewer days. The team at Fruh Realty is made up of hand-selected, exceptional agents and top producers who are authentic, trusted, and experienced that serve the North Shore of Massachusetts and the Seacoast of New Hampshire.
Soak & Shoreline
Situated in picturesque downtown Newburyport, SOAK and Shoreline are two sister businesses that sit side by side and provide a unique destination for shoppers. The carefully gathered collection of unexpected and unique delights from artisans, designers, and visionary brands from around the world offers an unparalleled range of exceptional products—including hard-to-find natural items, organic products, gifts, apparel and even a twenty-foot soap bar! The shared mission at SOAK & Shoreline is to bring indulgence and bliss to your every day while offering something special for every shopper who walks through the doors.
Figtree Kitchen
Figtree Kitchen is a local bakery and cafe that specializes in unique and delicious small-batch baked treats that are always carefully handcrafted with the finest ingredients. Figtree Kitchen's scones, cookies, baby cakes, tarts, and pastries owe their unique appearance and exceptional flavors to carefully sourced ingredients and the culinary artistry of the bakery's dedicated staff. Find Figtree Kitchen at Seacoast area farmers markets and at the bakery's flagship shop at 3 Liberty Street in the heart of downtown Newburyport!
Joppa Fine Foods
Joppa Fine Foods is a small, brick and mortar shop and café dedicated to sustaining a personal connection to food while maintaining a welcoming neighborhood and community feel. Pop by Joppa Fine Foods and browse an extensive selection of cheeses, cured meats, natural and organic wines, craft beers, cookies, and hard-to-find pantry items. Joppa's chefs prepare all of the kitchen offerings from scratch, using fresh, local ingredients to create a gourmet experience on every visit.
Salt & Grove
Salt & Grove is a local artisan shop and shared creative studio based in downtown Newburyport. Owned by two spunky creatives, Salt & Grove is a feel-good space that supports the rad local maker, curates an amazing collection of local, small batch gifts, and above all else, spreads good vibes in the community!
NEWBURYPORT FRAMERS
Keeping the tradition of framing in Newburyport, Newburyport Framers has been serving customers throughout the north shore of Massachusetts and southern New Hampshire for over 20 years! Using archival materials and methods and professional design consultation—with every project, large or small—the team is committed to offering the highest quality work.
Newburyport Framers has framed the work of prominent artists including Albert Bierstadt, George Braque, Keith Haring, Jasper Johns, Sol Lewitt, Takashi Murakami, Edward Henry Potthast, Ben Shahn, William Trost Richards, and more!
Port Plums
Port Plums & Newburyport Olive Oil are two side-by-side sister shops that offer a variety of goods for foodies, cooks, and entertainers alike! From ultra premium extra virgin olive oils and fine vinegars, to beautiful serving and cooking accessories, gifts, kitchen essentials, and unique gourmet pantry items, these locally-owned boutiques offer so much!
Olive's Coffee & Bakehouse
Olive's Coffee & Bakehouse is a lovely local grab-and-go cafe offering coffee, tea, and sweet treats for a morning, mid-day, or afternoon pick-me-up! With a talented in-house baker who handcrafts arising baked goods with only the best ingredients, and a beautiful atmosphere that is warm and welcoming, we can always count on Olive's to be a bright spot in our day. Pop into this community spot and on a nice day, enjoy your treats in the Adirondack chairs outside!
Theatre in the Open
Theater in the Open is a performance organization that is dedicated to producing accessible, innovative, and generous theater that promotes community engagement. Distinctive to Theater in the Open is its creative reimagining of classics, art-making outdoors in nature and in non-traditional spaces, and excellence in arts education. The mission at Theatre in the Open is to bring free theatre to the greater Newburyport area to keep art as open, welcoming, inclusive, and accessible as possible.
Lin's Little Kitchen
Lin's Little Kitchen is a fresh downtown Newburyport eatery focused on Southeast Asian cuisine served in a vibrant space with contemporary touches. Chef Linda, who has family roots in both Laos and Cambodia, brings a modern interpretation to the classics she grew up with; fresh rolls, Pho, and Bánh mì.
Firehouse Center For The Arts
The Firehouse Center for the Arts is a non-profit arts center gratefully supported by the greater Newburyport community. The 191-seat downtowntheater is active throughout the year with Firehouse-produced events, partner presentations, and arts education programs. Ever performance that is put on by the Center is made better by the artists, audience, philanthropists, businesses, and volunteers who contribute on a daily basis.
Sage Market + Design
Sage Market and Design is a full-service interior design studio and shop located in the heart of Newburyport, Massachusetts. 
Specializing in evoking a feeling of endless summer, Sage Market and Design's designs are inspired by nature and intended for everyday living. 
In its shop, Sage strives to support artisans and makers from all over the world, selling unique one-of-a-kind pieces that directly support their craft and communities. They also specialize in outdoor and custom furniture! Photos by Freebird Photography.
Changing Tides Coffee
Changing Tides Café & Donut Shop is a cozy neighborhood place where guests can relax while enjoying coffee and treats in house or on-the-go! At Changing Tides, there's something on the menu for everyone including loose-leaf teas, muffins, bagels, scones, and other yummy goodies. When you visit, be sure to watch the donuts being made fresh in the front window all day long!
IF YOU LIKED THIS POST, YOU MIGHT ALSO FANCY…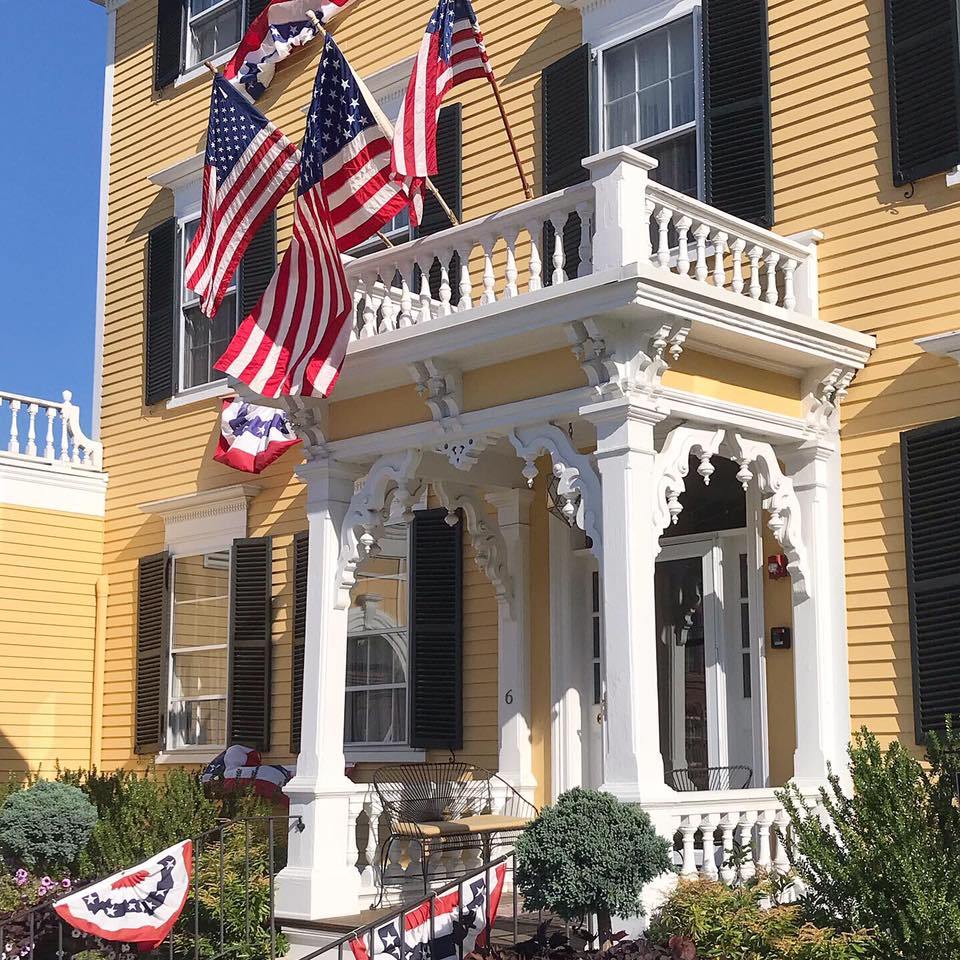 The post NEWBURYPORT, MASSACHUSETTS CITY GUIDE! appeared first on Seacoast Lately.